Re-creating Texana



Woodworker takes Old Lumber, makes New Art

SCOTT REESE WILLEY


The Victoria Advocate Staff Writer



When David Clifton spots an old building going to ruin, he doesn't notice the weather beaten exterior, rusty nails or sagging roof. He sees 19th-century-style credenzas, tables and pie safes.

"I love old wood, and I love 19th-century Texas furniture," says Clifton, who owns Texana Furniture Co. in Victoria. "I spend half my time tearing down old buildings- one board at a time. It's a lot of work, but you can't get that kind of wood in hardware stores."

The Victoria native is the only furniture maker in Victoria reproducing Texas antiques out of lumber salvaged from old homes, run-down barns and other abandoned buildings. There's no better way to reproduce period pieces than to use lumber from that period, he says. China cabinets, wardrobe chests and assorted tables fashioned out of old wood are scattered throughout his humble, one-room furniture factory in old Victoria.

Each piece of furniture, bearing the company's trademark Texas Star, is sanded by hand and rubbedwith oils to preserve the wood and bring out the beauty of the grain. As for the nail holes, often discolored by rust, Clifton says they add character to his reproductions.

"To me, the look is everything," he says. "I want my furniture to reflect the architectural style and the simplicity of the older pieces as much as possible."

Many of his pieces are made with the square nails of the era that are carefully salvaged from the old lumber. Hinges taken from the old dwellings are also reused to ensure his reproductions accurately resemble furniture used by Texans a...

(article continues in printed version)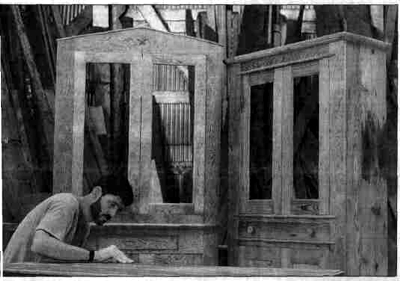 David Clifton, owner of Texana Furniture Co. In Victoria, sands the top of a desk.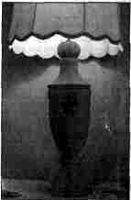 A replica of a 19th-century lamp once common throughout Texas was reproduced from wood salvaged from old buildings erected In that era. Texana "brands" all its reproductions with Its trademark Texas star.





Advocate Photos by Roger Curtner