Moving Day





4-A, The Victoria Advocate, Sunday, April 16, 2000



We have all heard of barn raisings, but seldom do we hear of a barn moving.

One of the few remaining great old plantation-style mule barns in South Texas is being dismantled on the Welder Three Mile Ranch just south of Victoria off the Bloomington Highway and will be reassembled at the SAS shoe factory location in San Antonio.

It is said the barn was once the home for 100 and more mules that worked the farmlands of John J. Welder. While it is not known exactly when Welder built the huge barn, which stands in the vicinity of the five concrete silos that have long been local landmarks, it is believed to have been constructed around the turn of the century or sometime shortly before. Grandson Pat Welder points out it would have been there during the time when his grandfather was deeply involved in the production of sugar cane and other crops. While there were problems with the cane business, including a drought, it was one of the many things that he was known to have farmed on the bottomlands south of Victoria. Welder was also a pioneer in producing ensilage for his livestock and in the building of silos. Lela Cliburn, a granddaughter, remembers the big barn and the silos being there when she was a girl in the teens and 20s.

David Clifton of Texana Furniture Co. in Victoria, who was involved in the transaction, will be supervising the dismantling and reconstruction of the structure, which is 127-foot long by 63-foot wide. It will be restored at the corner of Zarzamora and the South Laredo Highway in San Antonio where Clifton says it will be used by the shoe company as a working style barn and showroom. There were a number of old wagons and horse-and mule-drawn farm implements that went with the barn and which will be displayed in the factory shoe outlet. Clifton kept one wagon to display in his shop on Santa Rosa where he makes custom furniture using the wood of old buildings.

In preparation for moving the Welder barn to San Antonio, he says all the lumber has been tagged and he anticipates it will take about a month to dismantle the huge structure. The two-story barn is 32-feet tall and includes a large hayloft with a crow's nest that was designed for ventilation.

Due to the complexity of the structure, Clifton feels certain that an architect designed the barn.

This is not the first structure that he has located in the area for the shoe company, another being a timber-frame barn in Giddings that was moved to San Antonio, and an old bakery building on Goodwin Street in Victoria, which still had the smell of vanilla in it. Those structures, however, were destroyed in a fire at the shoe factory last year. Clifton notes that SAS is involved in various restoration projects, including the Old Mill Settlement in Fredericksburg and is assisting in the reconstruction of an Alsatian house in Castroville.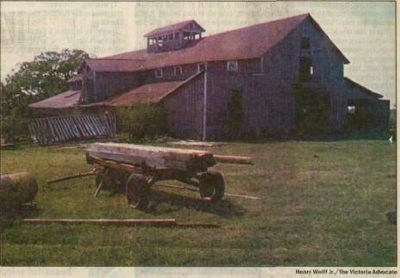 The large old mule barn on the Welder Three Mile Ranch south of Victoria off the Bloomington Highway is being dismantled and moved to the SAS shoe factory in San Antonio where it will be reassembled, restored and used to display the company's products in a working barn setting.
"They are great people," he says.

He has made furniture for their stores as well as helping to locate old buildings for them.

In addition to ranching in five counties, John J. Welder was involved in many business ventures, in banking and oil, and was legendary for his work habits, which no doubt had something to do with his purchasing what is said to have been the first automobile in Victoria County. His life, along with that of other members of the pioneer South Texas ranching family, is chronicled in a soon-to-be published book by Bill and Marjorie K. Walraven of Corpus Christi.

Welder was stricken by flu during the epidemic of 1918 and never fully recovered before his death on Dec. 31,1923.

"Primarily a rancher, as a financier and businessman, he had few equals," The Advocate noted in an obituary detailing his many accomplishments. "His business connections were many and varied, extending to numerous other pursuits, principally banking and manufacturing."

It was further noted that Victoria's electric and ice factories, the cotton mill and several cotton gins in this and other counties, along with other plants owed their existence to Welder, yet " it was as a ranchman that he was best known."

It was as an innovative rancher that he would build one of the most magnificent barns in South Texas.